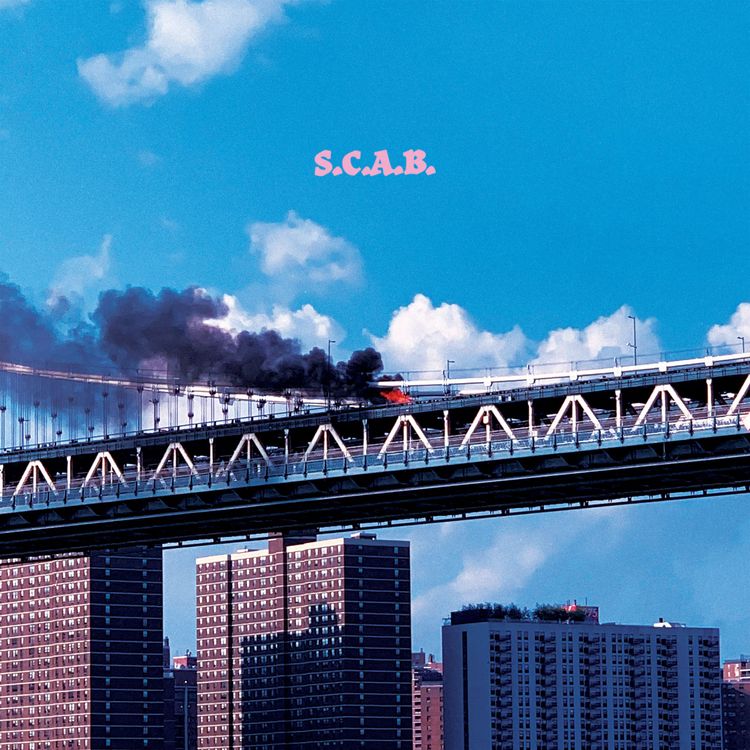 S.C.A.B.
S.C.A.B.
Following the release of S.C.A.B.'s debut album, 2019's Beauty & Balance, COVID-19 put the brakes on the Brooklyn-based band's burgeoning career. Not content with sitting still, the band decided to travel down to Georgia to record their sophomore, self-titled LP (S.C.A.B.), which they engineered and produced themselves. (side note: Brandon, the letter "B" in S.C.A.B., does play on this record, but has since left the group to focus on solo work under the name Hayfitz). Having distance from their beloved city during this unprecedented, tragic time helped them hone a sound that is even more distinctly New York.
Frontman Sean Camargo, whose parents immigrated from Ecuador and Bolivia as teenagers, was born in Elmhurst, Queens. His lyrics are colored with nostalgic memories of 90s Bushwick, where his grandparents later settled, alongside sardonic observations of the contemporary city where he landed again after stops in Maryland and Massachusetts. Each song on S.C.A.B. contains snapshots of New York moments that feel hazy with nostalgia, yet are the result of being present through transformational circumstances, no matter how seemingly small. As a self-titled effort, it solidifies the band's mastery of balancing raucous, distorted guitars with glimmering spoken word passages and a pop-infused melodic confidence.
The angular guitar passages in lead single "Tuesday" conjure up trains skidding across deteriorated subway platforms, as Camargo declares he's "trying to let go of everyone I've ever loved," reflecting a relatable disillusionment with trying to form meaningful connections, and searching aimlessly for something worthwhile. Thematically, S.C.A.B. covers an array of topics ranging from grief ("Small Talk"), as Camargo describes bonding with another band member over the loss of a parent, to infatuation with a partner you know is ultimately bad for you ("Why Do I Dream Of You").
S.C.A.B. is a result of four musicians, a tight-knit group, best friends: the kind of rare conditions that allow for such raw, emotionally-charged music. When the members of a band are this close, able to protect each other from the world outside it, they are a force to be reckoned with. As Frank Sinatra famously sang about the city, "Green beams of steel, making me feel, like I'm home again". S.C.A.B. embodies that sentiment and evokes the intangible magic that is New York City.
---
"An original rock song with spindly jangling guitars, a propulsive rhythm section, and Sean Camargo's bluntly expressive vocals"
"More bands should write songs that reference quotes from Seinfeld"
"Jangling, daydreaming guitars match the wistfulness of the song's lyrics all while the single's music video evokes nostalgic feelings for summer nights traipsing about New York"
"The much-anticipated follow-up to Beauty & Balance, S.C.A.B. opts for a much denser, grittier sound while still keeping intact the beautifully complex melodies and instrumentation articulated in their debut, with just enough sardonic wit nestled within the lyrical narratives to keep everything in check"
---
All songs written by S.C.A.B.
Lyrics by Sean Camargo, produced & recorded by S.C.A.B.
Mixed by Dave Vittrano, mastered by Carl Saff
Vocals & Guitar - Sean Camargo
Guitar - Cory Best
Bass & Synth - Alec Alabado
Drums - Brandon Hafetz
Featuring Reilly McBride, Barry Best, Drew Citron
Cover art by Alec Alabado, vinyl package by Kyle Stetz with photography by Matt Marino and lettering by Adrian Bermeo
Published by Cedrus Libani (ASCAP), Cory's Best Publishing Co. (ASCAP), Sean Camargo's House of Love (ASCAP) and Life on Loop (BMI)